Si bien el siguiente error no es crítico ni afecta al servicio, sí que resulta muy molesto porque nos «ensucia» el registro de errores del cluster y del sistema de forma continuada hasta que se soluciona:
Log Name: System

Source: Microsoft-Windows-FailoverClustering

Event ID: 1196

Cluster network name resource 'XXXXX' failed registration of one or more associated DNS name(s) for the following reason:
DNS operation refused.

Ensure that the network adapters associated with dependent IP address resources are configured with at least one accessible DNS server.
Cuando tenemos recursos del cluster asociados con nombres de DNS dentro del cluster (por ejemplo las IPs de las  instancias de SQL Server), el propio cluster intenta gestionar de forma automática los updates contra la zona DNS correspondiente. Es decir, si cambiamos la IP de un recurso que está asociado a un nombre DNS, el cluster intentará hacer el update en el servidor DNS de forma automática.
En caso de que el registro DNS haya sido creado manualmente, deberíamos haber marcado la siguiente casilla durante su creación:
«allow any authenticated user to update DNS records with the same owner»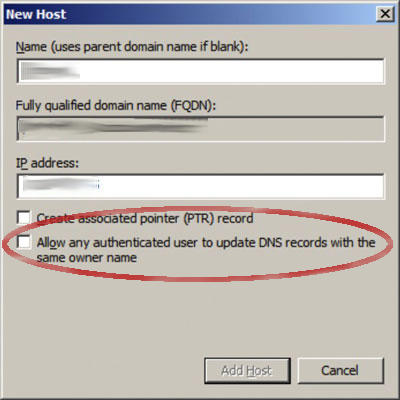 Si no es así, una de las soluciones es eliminar el registro en la zona DNS y volver a crearlo. Si nos parece demasiado drástico, simplemente debemos modificar la permisología del registro DNS manualmente. Para ello accedemos al servidor que sirva de DNS al cluster (normalmente el mismo que el Active Directory) y a la interfaz de gestión de DNS:
Accedemos a la zona y pinchamos con el botón derecho en el registro a modificar (el que quiere actualizar el cluster)
Propiedades > Seguridad
Marca permiso de escritura y especiales para «Authenticated Users«
Acceder a la gestión avanzada de permisos (Advance).
Marcar, en caso de que no estén, los permisos Read y All Validated Writes
Una vez realizado el cambio de permisos, dejarán de aparecer los errores en el cluster.